The Search for Freedom v1.3

---

A Fantasy Roleplaying game for IBM PC's and compatibles
You are visitor number
since Feb. 27, 1996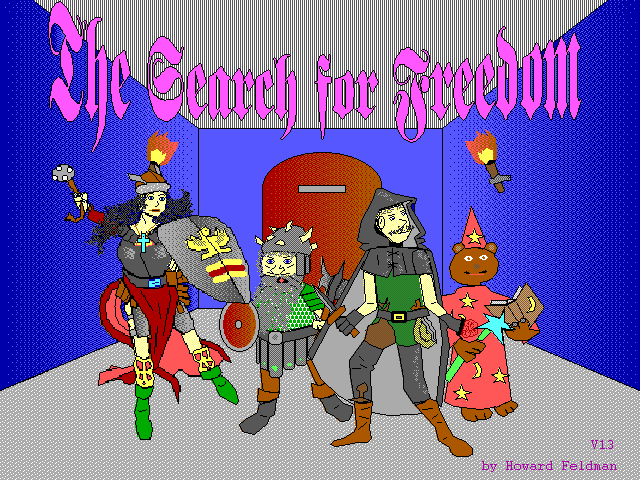 Register your copy online using PayPal! Simply send your registration fee to my PayPal account (same e-mail as above) and I will provide you with your registration code.

Purchase the Search for Freedom on CD! See news below for details.

See end of document for more locations to download from...
The Search for Freedom combines the best features of all my favorite RPG games, including Pool of Radiance style combat, Bard's tale type puzzles and spell system, and plenty of action. Complete Soundblaster sound effects and music are included, as well as 22 dungeon levels, 4 towns and 2 worlds to explore, and over 100 monsters each with their own special abilities will keep you on your toes. Interact with dozens of NPCs as well.

---

Screenshots from the game

Discover treasures beyond your wildest dreams as you explore the living realm as well as Aegea, the realm of the dead

Encounter strange and fascinating creatures in your journeys

What lies behind this mysterious Portal?

Meet people of all shapes and sizes, living and dead!

Enter combat with fierce monsters, where you'll see arrows fly, fireballs explode, and dragon's breathe - many monsters have special unique abilities such as invisibility, walking through walls, and gazes of stone - master over 50 spells as well

Enjoy colorful first-person 3-D perspective views as you explore towns and dungeons

Your travels will take you to the mysterious realm of Aegea, where the sea is of blood, and the stench of death fills the air

Defeat your nemesis, Kamazol, or the living world will be lost!

Be wary, for danger lurks around every bend!

The Search for Freedom was programmed entirely in Borland Turbo Pascal 7.0, and the current version, 1.3, released Jan. 2004, is available as Shareware. Registration is $10.00 (or more, if you like) with details within the game, or email me for details.

A hint book is also available, free to registered users, else $10.00, also exclusively from myself.

You may now buy the game complete on CD! See news below for details. Following is a snapshot of an actual game disc like you will receive:

---

Your input is always welcome, so please feel free to e-mail me with any comments or constructive criticisms:
howardjfeldman@gmail.com
So I'm sure by now you're extremely anxious to download and play The Search for Freedom... well, here it is, direct from the source. The game may be found on numerous FTP sites, however, this page will always contain the most recent version available. Currently this is v1.3, and chances are there won't be any more bug fixes. If so though, check here for them.
So far
have downloaded the game...
---
05/07/2020: A note to those of you trying to install the game under DOSbox and having trouble. The installer assumes you have a C drive and will not work if you do not. If you want to for example install on drive E, then drive C and D must also exist before running the installer. Once the game is installed it does not matter any more. Sorry for any inconvenience but when I wrote this it was highly unusual to skip drive letters!
---
04/14/2019: Due to a limitation of DOSbox, registered copies of The Search for Freedom will still appear unregistered to DOSbox. To remedy this, simply download this updated version of TMAIN.EXE (146,743 bytes) and overwrite the existing one in your game directory. Then reload the game under DOSbox and it will recognize that the game is registered. Sorry for any inconvenience this may cause.
---
10/14/2004: Search for Freedom available on CD for first time ever! Now you can own a personalized copy of the game. The first 100 copies are individually numbered, and signed by the author! For just $19.95 you get the CD (see image above) containing the full game, hint book, online manual and as well I've thrown in a bonus - the .D64 image of the Commodore 64 prequel to the game, Quest of Kings (for use on emulators). To order your copy today, just send me an e-mail.
---
01/24/2004: Released v1.3. The only change is that there is no longer a dependency on CT-VOICE.DRV for sound effects. To get full DOS sound support under Windows 2000/XP download VDMSound (search Google for it).
---
02/28/2002: Released v1.2b. The only change is that the bug in the Turbo Pascal 7.0 compiler has been fixed! This means that Search for Freedom will now work on machines of any speed! No longer is it limited to machines with speeds of 300MHz and below. About time is all I can say..
---
04/29/1996: Search for Freedom fans may be interested in the 'prequel'. If you have a Commodore 64 Emulator then you can try it out. It is called Quest of Kings, and is a simple 4-level dungeon game, with Bard's Tale-style combat and puzzles. This game is freeware of course, so check it out here.
---
02/18/1996: Due to your input, I have decided to make available a "patch" for the first dungeon, so that you may return to the stairs on level 2 and return to town, before defeating Macabath, so you may train your characters. If you want the extra challenge, then you don't need this. Simply overwrite the old file with this one by the same name, in your game directory:
---
This page was created with DOS EDIT. All copyrighted/trademarked names I've mentioned are copyrights/trademarks of their respective owners.